Rick Perry Forms "Conservatives For Caitlyn" Campaign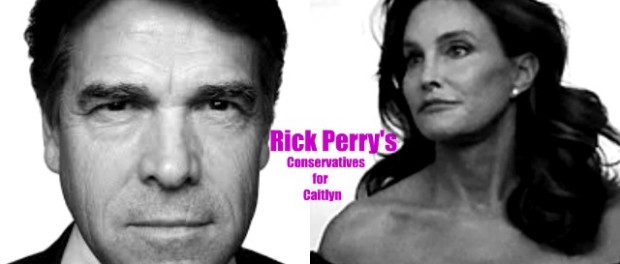 Announcing his bid as a presidential candidate for the 2016 election, Rick Perry wasted no time making some serious waves in the Republican party. He has formed a startling pro-transgender campaign called "Conservatives for Caitlyn" which was inspired by famous athlete Bruce Jenner's transformation into a woman named Caitlyn.
Perry released the following statement:
"Bruce is a long time friend, we actually competed in discus throw back in junior high. His transformation to the stunning Caitlyn is something of a type of courage many of us Americans rarely see. Fellow Republicans, I know this campaign I am launching at the onset of my presidential bid may seem as a shock, may be challenging for some, but rest assured Bruce is as American as they get, he's a Republican himself, and his courage to become a Caitlyn will be recognized and accepted as an example of the freedoms we have in this country to change your gender if you are dissatisfied with it."
Indeed Bruce Jenner revealed in his Diane Sawyer interview that he was a conservative and a staunch member of the Republican party.
Criticism of Perry's campaign has been quick to surface. John Batsoli, a conservative clergy man and Republican Pary Hostmaster for the Des Moines, Iowa chapter, has relayed sentiments that many in the party have been voicing:
"I don't know, I like Rick, I really do. But rather than talk about building up our military, getting rid of illegals, and curbing the violence in our streets, he comes out of the gates with this transgender business. I know he's friends with Bruce, or Cathy or whatever his name is now, but it just seems like he's cashing in on this whole thing."
Conservatives for Caitlyn will begin it's transgender outreach program in Texas by hosting garden and tea parties which will include competitive events like arm wrestling and no holds barred cage fighting.
No word yet whether Caitlyn Jenner will be backing Perry as a candidate, but many analysts agree that if she does it will skyrocket Perry in popularity, and cause enormous detriment to the Clinton campaign.
"Hillary has to be fuming right now. She knows if Perry gets Caitlyn it will kill her transgender base. Caitlyn is thee hottest thing in Hollywood right now and Perry could actually be the first conservative 'it boy' since Reagan that this town will embrace," said political and entertainment analyst Shasta Bree.
"Perry really is a handsome man, he has that lead actor look, put him next to the stunning 'go to girl' of the moment, Caitlyn, and it is game over. Perry 2016 period."